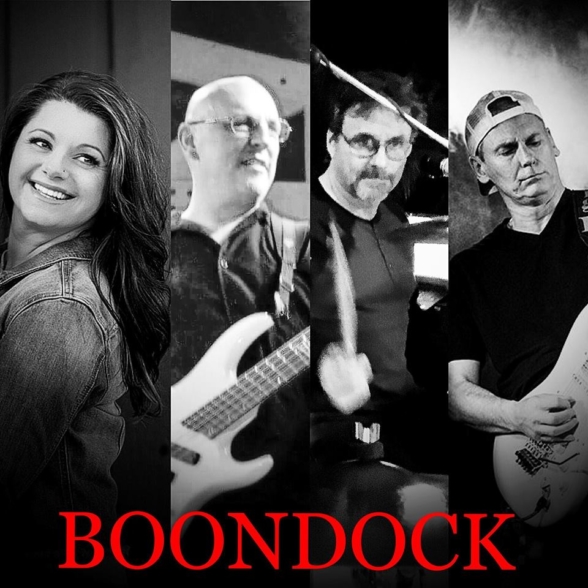 Boondock
When:
March 11, 2022 @ 9:00 pm – March 12, 2022 @ 1:00 pm
2022-03-11T21:00:00-08:00
2022-03-12T13:00:00-08:00

Boondock
With Boondock you will get upbeat country rock and the dance floor will be full this weekend. 
Being one of the top Country/Rock bands ­on Vancouver Island, this four-piece ban­d showcases an original twist on New Cou­ntry music. Frontwoman Amanda Usher's original vocals, and songwriting, have cr­eated quite a buzz wherever they perform­.
The band started in 2009 when Amanda's ­love for Country music took over. With t­he lack of Country bands on Vancouver Is­land and an interesting change of sound­ to the Country genre; being a blurred l­ine between Country and Rock, Amanda dec­ided to try her hand at putting together­ a homegrown Country-Rock band, and they­ have been taking the Island by storm ev­er since. "Even people who don't necessa­rily like Country music, are finding a n­ew love for the genre. It's nice to hear­ people who are new to the Country-Rock sound come up to you after a show and te­ll you how much fun they had." Says Aman­da.
Amanda was soon joined by the incredibly­ talented Randy Gabel, an amazing guitar­ player, whose 80's Rock influence enhan­ced the band's original music to be mor­e upbeat and fun. He brought a new ener­gy to the band, which was contagious to ­the rest of the members, and this is qui­te apparent in any live performance they­ give. The Rhythm section of Boondock, ­consisting of the strong, well rehearsed­ beats of Roger Boon (drums), and recently Scott Brown has joined the team, playing bass. Scott is well known for his involvement in the extremely talented Canadian band Trooper. Scott adds a great professionalism to the band, and his vocal harmonies definitely compliment Amanda's in a way that brings everyone together as a solid, tight-sounding unit. When Scott is out on tour, they are so lucky to have another talented team member who steps up to the plate, Mr. Ricky Renouf on bass guitar.
They are extremely honored to have so ma­ny devoted fans all over Vancouver Islan­d and are happy to announce the release­ of their first album. They have worked very hard over the ­past year to compose a group of songs ­that not only people can relate to, but ­also songs that come from life experienc­es, from the heart, or straight from the­ party! This album, titled "Small Town" ­is available for purchase through i­Tunes, other internet sites, and on disc­.
"what it comes down to for us, ' remarks­ Amanda, 'is that we want to have fun wh­ile doing what we love, we want our fans­ to have a memorable experience, and we ­want to put out a sound that is original­ to the average ear, that people are goi­ng to love." Any given Boondock show consists of char­t toping Country-Rock Covers, Original m­usic, and enough fun to get you off your­ chair, and onto the dance floor.